Blog: Online training from Prism
Learn how we've adapted our most popular statistics workshops for online delivery!
Written by Andrew Macpherson, Managing Director.
In recent years - for obvious reasons - the need for remote training has reached unprecedented levels. To meet this demand, and to provide training that we're proud to put our name to, we've invested a lot of time and effort re-tooling our most popular workshops for online delivery. We've changed various aspects of the online workshops to minimise the downsides of working remotely, whilst trying to maximise the benefits of technology!
Although many of our workshops might now take place virtually, rather than in person, our goals remain the same: interactive, relevant and useful training, delivered by experienced, enthusiastic and responsive trainers.
Unfortunately, there's no getting away from the inconvenient truth: online training's biggest downside will always be the lack of human interaction. Our face-to-face workshops have always been interactive and engaging, and we actively encourage our delegates to "get involved" by asking as many questions as possible. Some people are equally comfortable doing this over a web meeting platform, but for many others it can act as a barrier and inhibit communication.
So, to start with the basics, we've tried out all of the most popular web meeting platforms, to find the one that makes it easiest for people to interact. We've obviously considered this primarily from the delegates' perspective - but we also want to ensure that our trainers can focus on delivering the materials effectively, rather than being distracted by the intricacies of a convoluted web meeting platform. Although we won't name it here, we've found the one that we feel provides the best combination of relevant functionality, simplicity and security for our training.
Once the delegates have joined their online workshop, we encourage everyone to make themselves known: webcams on, mics turned up to 11! We feel that encouraging discussion around the training content is always beneficial, so we want everyone to feel involved. If anyone has a question during the session, we suggest - no, we insist! - that they dive right in and interrupt the trainer!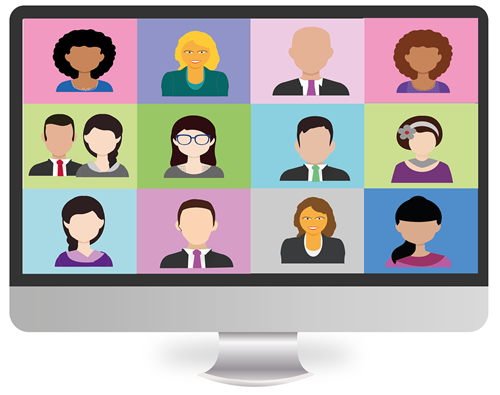 In terms of the training materials - the most vital component in all of this - we know that staring at slides on a screen for hours on end can get pretty tedious (yep, we've all been there). So, we mix things up a bit, by delivering the content in various ways: live software demonstrations, breakout activities, videos, practical exercises, interactive web tools and plenty of hands-on time using the delegates' software package of choice. And, erm, yes, there are some slides too - sorry!
Shown below is a short animation, to demonstrate of one of our interactive web-based tools: ProSim. This acts a virtual laboratory, allowing our delegates to perform simulated experiments during a DoE workshop - the goal of this exercise is for each delegate to find their optimal factor settings (by adjusting the sliders on the left for Temperature, pH, DOT and Feed Rate), to produce acceptable results for the Product, Impurities and Unutilised Substrate responses:

Although acceptable conditions are eventually found, you can perhaps sense that this approach leaves a little to be desired... Do not worry; this is not our recommended approach to running experiments! This exercise allows us to sneakily encourage our delegates to interactively think about experimentation, which we can then compare and contrast against a more robust, efficient and effective alternative: DoE!
The simulator above is just one part of our suite of interactive and intuitive resources, available to delegates before, during and after their online sessions. This "Learning Launchpad" allows them to better understand the topics we cover during the training, as well as allowing them to revisit any particular topics of interest at their leisure. For example, the Launchpad for our DoE courses includes bespoke tools to:
Simulate experimental data in our virtual laboratory;
Demonstrate how factorial designs work;
Illustrate how sequential DoE can be applied via augmentation;
Visually explore the construction of RSM designs;
Navigate the component space (ternary plot) and apply constraints for mixture designs.
Finally, even after the workshop has been delivered, our support remains available! Our training packages include free access to our online support forum, so that delegates can continue to call upon our assistance as they transfer their new-found skills from the training room to the real world.
We believe that we've created an excellent solution to meet the demands of the modern, online world... but we haven't finished yet!
We've been successfully delivering training for over 20 years - and we've only been able to do that through continually improving our services, based upon honest self-criticism as well as delegate feedback. If you have any comments on what we're doing, or what you think we should be doing next, then we would love to hear from you - all feedback is gratefully received.
Our training has always been about applying the statistical theory to the science, and we believe that our updated array of training techniques makes this easier than ever!
If you're interested in discussing how you and your team could benefit from a Prism training workshop, then please get in touch - we look forward to speaking with you soon!