How To: Use Basecamp with Prism
 A brief guide to getting set-up on Basecamp to access Prism support.
Written by Chris Challis, Business Director.
All our on-site workshops and consultancy projects include the option to access a private support forum hosted on Basecamp. This secure platform allows those within a company who have attended training or who require on-going support with us to discuss and share any issues, queries or successes with Prism consultants and their colleagues.
What is Basecamp?
Basecamp is a secure project management tool suitable for private communication and file sharing. We've used it for many years to handle various client support queries and consultancy requests. Aesthetically it resembles an on-line forum; it's easy to post messages, documents, queries and – most importantly – get notified when you receive a reply!
I'm receiving statistical support from you – what now?
Once we receive the necessary paperwork required to deliver training or begin ad-hoc consultancy support with you (eg. a PO and signed Services Schedule and Provision of Services Agreement documentation), we'll ask you for the names and email addresses of those requiring access to the forum (eg. delegates attending a course or colleagues co-working on a project). We will then create your company's own unique, private project within Basecamp; providing access to each of the named individuals via email notification.
For example, we've set up a fake company called Biotech Bros Ltd, run by Jason, Juliette and Jerome Biotech, who have signed up for some on-site DoE training. Once we've received their PO and contractual paperwork, we'll contact each participant via email – they'll receive something similar to the below: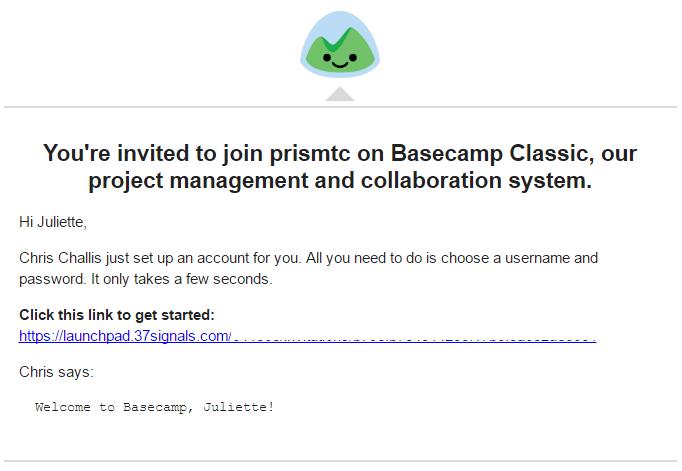 Upon clicking on the URL, you'll be taken to the Basecamp portal and asked to confirm your name and set-up a password. Once done, you'll be taken to your company's project Overview:

We'll predominantly be using the Overview, Messages and Files tabs along the top.
The Overview page will list any recent activity, such as Messages, Comments, Files and Events – each is clickable and will take you to the described item.
The Messages page is where we'll encourage you to post any queries or discussion. The Messages user-interface is straightforward – you can 'Post a new message' using the button on the right, or click into a pre-existing message to read original posts and their comments. All messages are ordered chronologically by most recent, with the 'Most active discussions' appearing in a box at the top at the top of the thread (with details on who last commented). In the below example, Prism has posted a new message about upcoming training, with some course materials attached: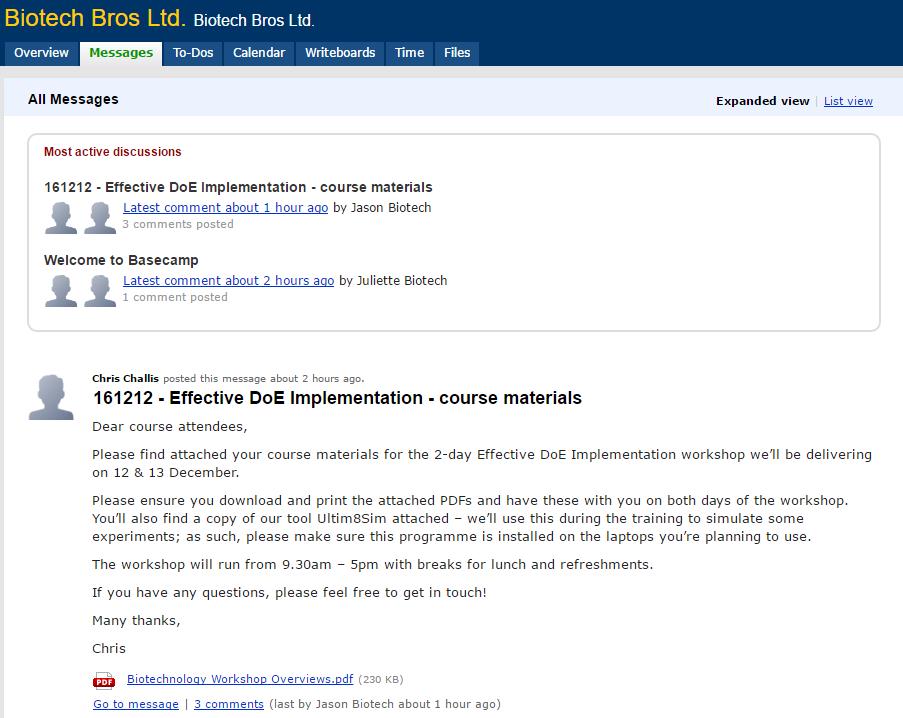 Whenever Prism posts a new message, we'll ensure all users receive a notification (automatically sent via email to your supplied address). If you wish to post a new message, you'll have the option of selecting who will be notified within the group – please ensure you select 'Prism Stats Support Desk' each time you post, as well as any colleagues you feel might benefit from being involved (please note – although this will ensure individuals selected will receive an email notification of a new message, all users who didn't receive a notification can access the messages if required, they just won't be alerted that a new message exists!).
Clicking into a message will show the original post at the top, and all responses below it. To the right of the message, you'll see details of exactly who is receiving notifications to this message, their affiliated company and who is currently talking about the message. By commenting on a message, you will automatically be subscribed to it and therefore continue to receive notifications on further comments. In the example below, Jason has responded to Prism's first message with an enquiry. Prism was notified of this enquiry via email and responded accordingly – Jason was then notified of Prism's response: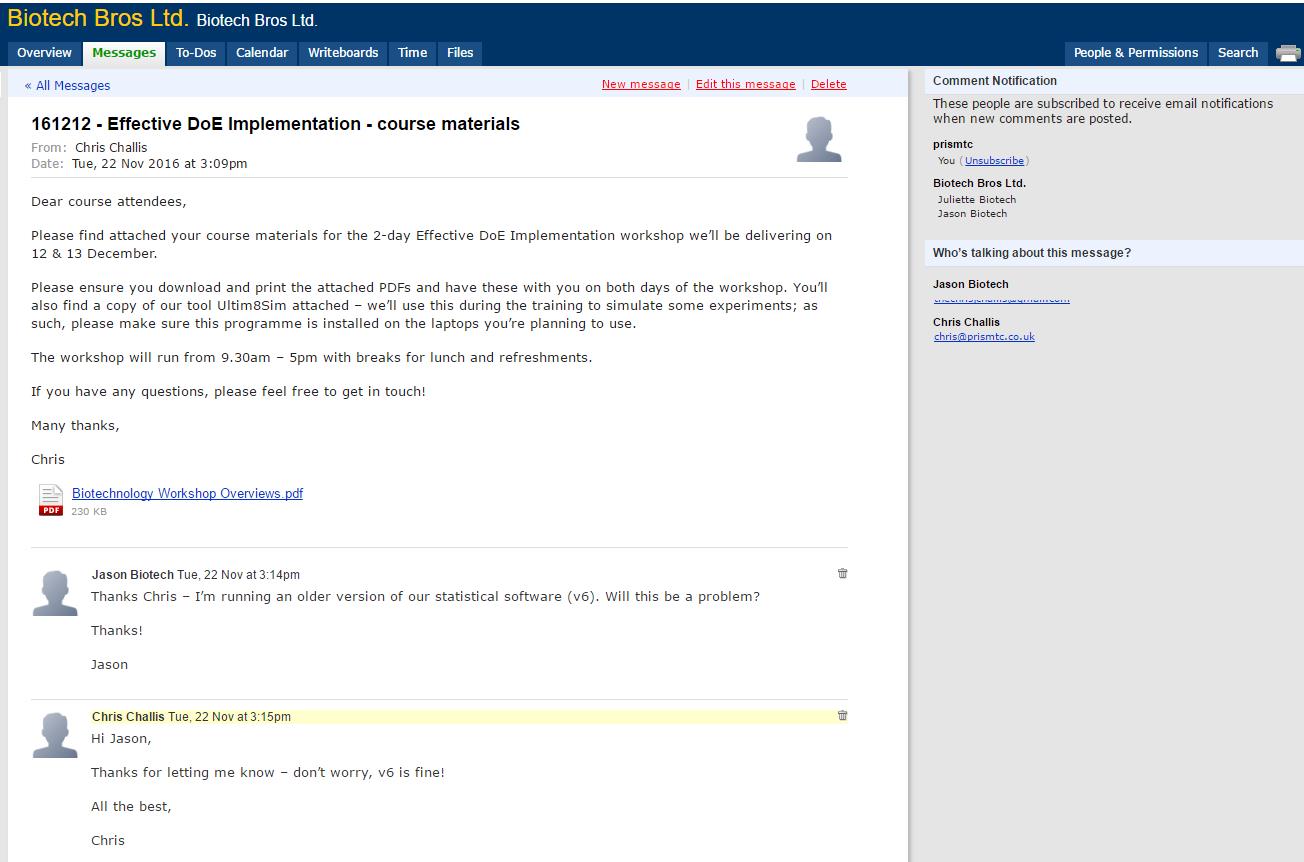 Finally, the Files page is a list of all the files either Prism or your company have uploaded across all Message threads. Please note - when attaching files, please do so within a new message (or a reply to a message) rather than use this Files tab.
How do I receive support?
We'll be monitoring all messages within the group – if you have any statistical enquiries or issues that need our attention, post a new message with your query and we'll assign a team member to help assist you. They'll determine whether the solution is a quick-fix, in which case we'll look to answer within the forum itself. If it requires some more in-depth work, we could look to set-up further ad-hoc support agreements based on our normal hourly consultancy charge – we'll obviously discuss this with you before any work is undertaken so you remain in complete control.
To log in to your Prism Basecamp account, please click here.