Basecamp Summary
Secure forum for our customers to easily access statistical support whenever they need it!
If you're already a client and you'd like to log in to your company's Basecamp Classic forum, please just click here.
In-depth project work-packages, and our online / on-site training workshops, include access to a private support forum hosted on Basecamp Classic. This secure platform allows our clients - whether they've requested consultancy support on projects, or if they're recent attendees to one of our workshops - to discuss and share any issues, queries or successes with Prism consultants (and each other!) as they come to apply what they've learnt to their day-to-day roles.
What?  A private support forum hosted securely on Basecamp Classic, monitored by Prism and designated Company point(s) of contact. Basecamp is a secure project management tool suitable for private communication and file sharing. We've used it for many years to handle various client support queries and consultancy requests. Aesthetically it resembles an on-line forum; it's easy to post messages, documents, queries and – most importantly – get notified when you receive a reply!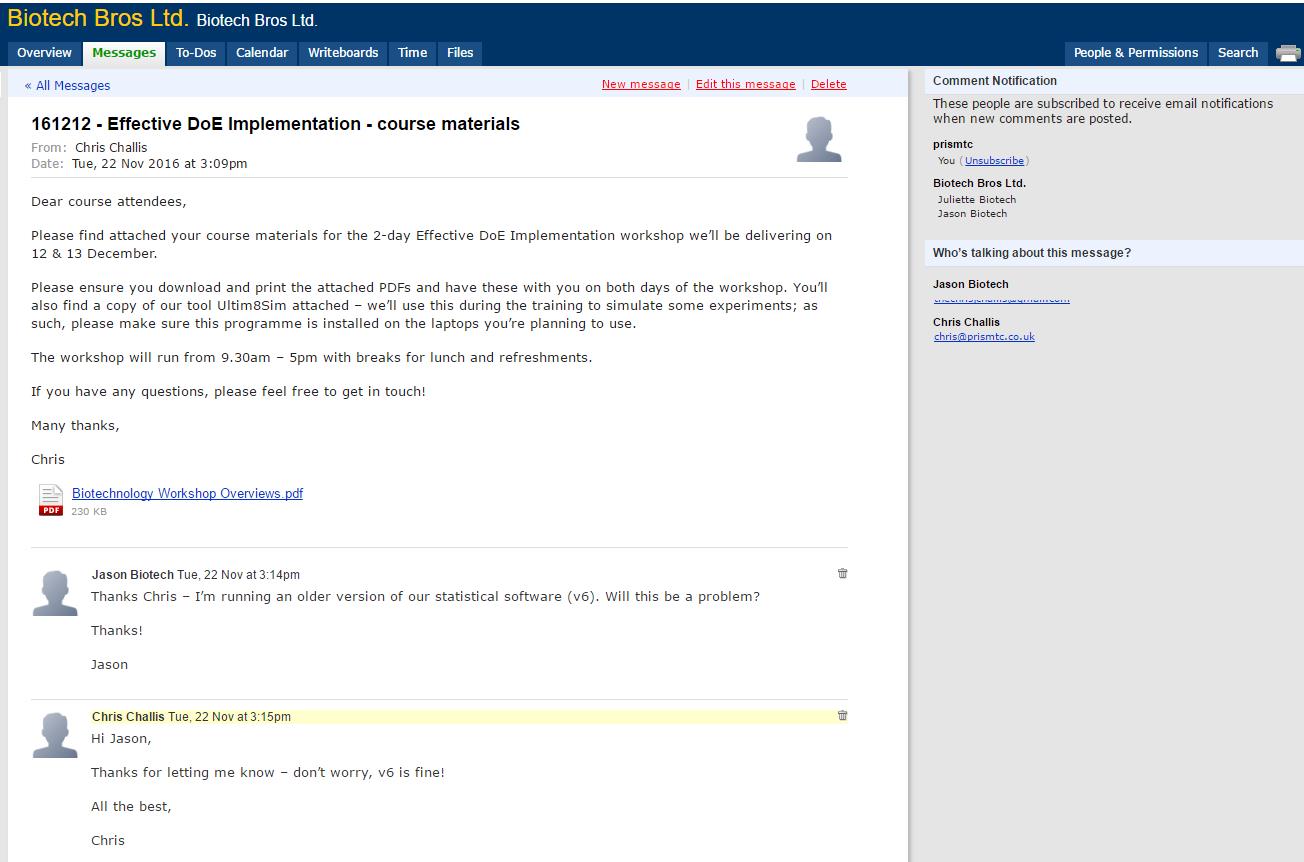 An example of the Basecamp Classic 'Message' page
Why?  We recognise that learning doesn't (and shouldn't!) stop at the end of a workshop, a project or a phone call – it's an on-going process and sometimes it's useful to have a helping hand as clients apply what they've learnt to their own work. Our company ethos is to enable scientists, engineers and formulators to make the best use of our statistical support and services to build up their own in-house statistical support network and have confidence in their internal statistics; by providing this secure forum to celebrate people's successes, resolve queries and issues, or simply share knowledge, we aim to promote a better understanding of experimental design processes and practices within your company.
Who?  The support forum is available for clients whose large projects require on-going support and those who have attended our training courses, with the potential to be expanded to incorporate others to encourage wider participation and greater interest.
For a more detailed, step-by-step guide to using Basecamp Classic with Prism, please click here.
If you have any queries about Basecamp Classic, or would like further information regarding its use, please don't hesitate to contact us.