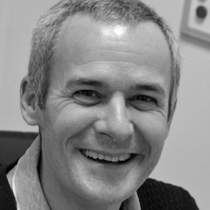 Dr. Paul Nelson, PhD
Technical Director
Learn all about Prism's co-founder and Technical Director, Dr. Paul Nelson
What Paul offers our clients…
Paul is a passionate problem solver. Whether it is interacting with clients to help them identify which visual or statistical tools will help them to make the most of their hard-earned data, or training scientists to enable them to use the tools for themselves, Paul will get a kick out of it. The more impossible the mission, the more exciting the challenge. Of course, should anything happen to Paul during one of his many total immersion projects, we at Prism will disavow any knowledge of him or any of his actions. 
Paul is a keen advocate of experimental oriented design: designing experiments to suit the experiment and not the other way around: "I love it when a (experimental) plan comes together!". Design oriented analysis naturally follows: extracting the information contained within a carefully crafted and suitably structured designed data set. Making the best use of pictures or graphs to tell the story, and then supporting their inter-ocular results with the most appropriate statistics and statistical tests – to aid understanding rather than to confuse or to detract the experimental goals – is always his primary goal.
Data exploration and looking for patterns in data; mining for those golden nuggets of information; extracting and displaying them for folks to see, to understand and to learn from. That's what gets him excited. Other folks much just label him as just sad!
What Paul offers Prism…
"Everyone has one special thing," and Paul literally and metaphorically put the PR in Prism. With a background in teaching statistics at universities, Paul has always seen himself as an enabler. He'd love to be viewed as statistics answer to Professor Keating: shaking up the way statistics is taught to inspire and get its simple yet powerful concepts over to those who wish or need to use it. That's for those who have been consulted and trained by him to judge.
Of course, none of what Paul set out to achieve would have been achievable without the enthusiasm and support of his colleagues, scientists and engineers that he has had the good fortune to work alongside, and the giants on whose shoulders he proudly stands. 
Paul's experience…
Given little hope of going to university, Paul graduated with a First-Class Honours degree in Statistics from Queen Mary College, University of London. He went on to complete a Ph.D. in Statistical Experimental Design at Goldsmiths' College, University of London; focusing on Restricted Randomisation Schemes.
Paul then lectured in Statistics at the University of Southampton and delivered numerous presentations. During this period Paul put into practice his philosophy to create, organise and deliver course content and statistical methods that students could easily follow, understand and ultimately apply, not simply learning it's theory.
Paul joined SmithKline Beecham in 1994, working alongside Prism's co-founder Ian Macpherson. This is where he cut his teeth and honed his consultancy and project management skills while supporting all areas of discovery, research and development and manufacturing. Paul also continued to build and deliver a portfolio of relevant and applicable statistical courses targeted at the non-statistician.
Finally, bitten by the millennium bug, Paul set up Prism with Ian Macpherson and hasn't looked back since!
What Paul enjoys most about working with Prism…
Working closely and interacting with colleagues and scientists to identify, address and solve problems. Enjoying and savouring the moments when a statistical light switches on or an answer leaps from a graph or an analysis.
Discovering new methods and new applications for statistical design and analysis of experiments. Relating these methods to solve real-world situations – often in the most unexpected of places – gives Paul a real buzz.
Prism is a story that, thanks to all those involved, continues to be written and is an epic of epic epicness.
If Paul could give one piece of advice to all potential clients, it would be…
Fear of statistics can hold you prisoner. Hope – being open to different ways of approaching things and a good statistical consultancy – can set you free.
Paul's first rule of statistical consultancy is…
You don't talk about statistical consultancy. The second rule is… you know what's next! There are no rules. There are, will and should always be different ways of approaching a problem. Just strive for the simplest analysis which gives the greatest insight.  
How Paul relaxes outside of work…
He doesn't. His is the light that burns twice as bright burns half as long – and you have burned so very, very brightly. Ok, he does. If you hadn't guessed it, he's a film fan. When he is not watching a film, this self-professed sci-fi and super hero geek can either be found cycling or bowling… he is getting on!  
Paul's greatest achievement…
Apart from co-founding Prism of course, convincing his college crush to marry him and producing three fantastically different sprogs. Family isn't a word, kids. It's a sentence.
Paul's ideal holiday would be…
Walley World, of course. In fact, that would be his worst nightmare. Exploring India and New Zealand, and visiting all the places where cricket grounds are so wonderfully described when listening to Test Match Special.
Most surprising thing about Paul…
He is part of a performing dynasty. His great grandfather was discovered to be Claude "Casablanca, Lawrence of Arabia, Invisible Man…" Rains. He is also related to Jesy "Little Mix" Nelson – not that he knows any of the songs. On his Mother's side of the family (Walker-Hebborn) there is the Great British Olympic swimmer, Christopher.     
Least surprising thing about Paul…
He is at his happiest when watching a film with his family, or listening to Test Match Special while working on a complex statistical problem... unsurprisingly, without his family.
Don't forget folks, in (design) space no one can hear you scream, and this message will self-destruct in ten seconds.
Paul is proficient using various software packages, including:
See what Paul has been up to...
Find Paul on social media at: