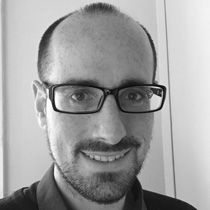 Chris Challis
Business Director
Learn what makes our Business Director tick!
What Chris offers our clients…
Chris acts as a first point of contact for all enquiries, new clients and returning customers. He's here to provide initial support and identify who from the Prism team would be best to handle your query; whether that's registering your request for assistance with a particular statistical analysis, a question about the various training packages Prism deliver or supplying more details about a particular statistical software tool. Once a work package is underway, Chris provides continuity for the client as he works with our chosen project team; this ensures that the right people are assigned to the right tasks, and that the project scope, budget and deliverables are carefully monitored.
He's also here to assist clients with setting up contractual paperwork, managing training diaries and bookings, monitoring support forums and offering all manner of general support on a variety of processes; from Design-Expert software sales to awarding workshop certificates.
What Chris offers Prism…
With a background in marketing and communications, Chris promotes the services Prism offers across a variety of platforms – email campaigns to improved SEO, events, seminars and the creation of online content, for example – alongside dealing with the various daily behind-the-scenes administrative duties within the company. 
Chris's experience…
Chris graduated with an English and Media degree at University of Sussex and began to work in public relations, media relations, marketing and communications within the Arts industry (with the occasional jaunt into journalism and event management to boot). He joined Prism in 2016 to face a new challenge in a completely different industry; since then he's been surprised at the similarities between the two!
What Chris enjoys most about working with Prism…
The customer-facing element of the role, which allows him to work directly with clients to help identify, address and solve issues.
Discovering how statistical concepts like Design of Experiments can be applied and relate to real-world situations – often in the most unexpected of places.
The freedom to explore different promotional platforms and marketing initiatives.
If Chris could give one piece of advice to all potential clients, it would be…
There are no stupid questions – fire away!
Chris's first rule of consultancy is…
Always be open to different ways of approaching things.
How Chris relaxes outside of work…
Despite his early musical forays on the drums, Chris has been trying to learn to play the guitar for over a decade with mixed success - now he simply relies on copious effect pedals and other sound distorting equipment to make himself think he's competent. A self-professed nerd, he's a big fan of video games, comic books and obscure post-rock.
Chris's greatest achievement…
A small (read: literally microscopic) picture of Chris appears on the back cover of a Stephen King novel.
Chris's ideal holiday would be…
Hopping in a campervan and driving off into the unknown.
Most surprising thing about Chris…
He genuinely enjoys chasing overdue invoices.
Least surprising thing about Chris…
He'd really, really like to be in a band (preferably with a group of people who can't really play).
See what Chris has been up to...
Find Chris on social media at: