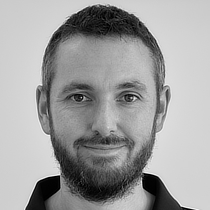 Andrew Macpherson
Managing Director
Learn all about our Managing Director and resident software specialist
What Andrew offers our clients…
Andrew loves using, adapting and making software – and his programming, data management, analysis and visualisation skills are well suited to a wide range of useful applications.
He has produced countless macros, scripts, automations and programs for more than 20 years; these greatly assist our clients, and allow the other Prism team members' ideas to become valuable software tools. Andrew also plays a key role in moving an ever-expanding range of statistical tools to our website, making them freely available to everyone.
Andrew also curates and delivers a number of our training courses, and enjoys conveying the relevant concepts to people unfamiliar with statistics. He takes a particular interest in the practical applications of statistics; for example, how the various statistical software packages can be used to make sense of complex data, or how DoE can be used in any scientific field.
What Andrew offers Prism…
Andrew is our Managing Director, so is ultimately responsible for all aspects of our business. He negotiates agreements with our clients, manages our team, oversees various projects, provides estimates, and approves the eventual invoices. Andrew is a vital part of our core team.
He also delivers training, contributes to project work, assists colleagues with data management, enhances our website, and develops software tools, so he's usually kept fairly busy!
Andrew's experience…
After studying Maths at university, Andrew worked for several years at Johnson Matthey, where his love of Excel grew as he developed numerous stock control management tools. He was also involved in a large ERP implementation programme, which saw him act as an internal consultant to various stakeholders within the company.
After this programme was successfully completed, Andrew left the company in search of a new challenge. He was approached by Paul Nelson, who wanted someone to turn his statistical methods into user-friendly tools – and so began a beautiful relationship! After working initially as a Consultant from 2005, Andrew became a Director in 2013, and our Managing Director in 2015. Over this time he's trained hundreds of delegates, familiarised himself with various statistical software packages, and reformatted more datasets than he's had hot dinners!
What Andrew enjoys most about working with Prism…
Providing practical solutions to real-world problems, through statistics and software;
The people that he's fortunate enough to work with, both inside and outside the company;
The freedom, flexibility and challenges of running a small business.
If Andrew could give one piece of advice to all potential clients, it would be…
Define a consistent data structure before you start!
How Andrew relaxes outside of work…
Andrew enjoys watching football, hiking around the awesome British countryside, photography, and listening to music. All of which would be a lot easier if it wasn't for his pesky kids ruining his plans, of course…
After living in Cambridge, Barcelona, London and Cambridge again, he moved to rural Suffolk in 2016, and now spends his weekends failing to keep his family and garden under control.
Andrew's greatest achievement…
Completing Wainwright's 192-mile Coast to Coast walk in 2010, during which he met the future Mrs. Macpherson.
Andrew's ideal holiday would be…
His lifetime ambition is to walk the world-famous Camino de Santiago.
Least surprising thing about Andrew…
He really does love Excel!
Andrew is proficient using various software packages, including:
See what Andrew has been up to...
Find Andrew on social media at: